POLINOX FL Passiv
Sprayable Thixotropic Passivation Gel
You need help? Of course!
You have further questions concerning our chemicals and how to use them?
Please do not hesitate to contact us. You can contact the responsible person of the division Poligrat Chemistry by the following telephone number:
POLINOX FL Passiv is a spreadable and sprayable thixotropic passivation gel for the treatment of austenitic and ferritic Cr/Ni steel and Cr steel.
After pickling POLINOX FL Passiv reliably establishes optimal corrosion resistance even under adverse ambient conditions by the fast and uniform formation of the protective passive layer on the stainless steel surface.
In corrosive environments POLINOX FL Passiv can significantly increase the service life of stainless steel surfaces if applied regularly during maintenance works without the need of a pickling treatment that would cause metal ablation.
POLINOX FL Passiv is fully water-soluble. It's chlorine content is under 50ppm.
POLINOX FL Passiv is applied by brush or roller onto the welds or surfaces to be treated. The use of a POLINOX Spray unit ensures a continuous, uniform, thin adherent film of the correct thickness. The green colour facilitates control.
The coverage is about . 0,12 to 0,15 kg/m².
The consistency required for spraying can be adjusted by adding water if needed.
POLINOX FL Passiv can be used for surface temperatures between +5°C and +30°C.
of application and the surface condition.
After a treatment time of 10 to 40 minutes, the gel is thoroughly rinsed off with water. During the application the working instructions have to be followed and protective clothing and safety goggles have to be worn. The rinse waters, which are strongly acidic, have to be disposed of according to the statutory laws and regulations.
Rapid and reliable passivation after pickling process
Stick at vertical sufaces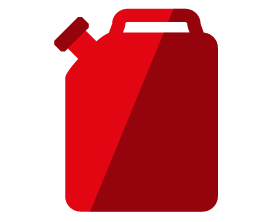 Single-use Canister 30 kg (25 l)
---
POLIGRAT-PRODUCT INFORMATION POLINOX FL Passiv