Poligrat: Creating Added Value.
Chemical Polishing
Chemical Polishing
POLIGRAT processes for chemical deburring and polishing are used in many fields. They deburr, smooth and polish metal surfaces in a single operation in a reliable and cost-effective manner.
The processing chemical removes a thin layer of material across the entire wetted surface of the part, thereby smoothing and polishing it in the microsphere. At the same time any particles, flakes, debris, contaimination and structural damage contained in the surface layer is removed. Higher removal rates along tips and edges removes the burrs to be found there up to a size of approx. 0.5 mm.
Processing is largely independent of the form, size and structure of the parts. Simply immersing them in special tanks ensures a safe and cost-effective processing of the entire surface. Even in the µm range the removal rate is precise, controllable and reproducible. Removal is determined by the concentration of chemicals in the tank, the temperature of the solution and the current on the surface of the part. By controlling these parameters the repeatabilty of the processing can be guaranteed.
Chemical deburring and polishing processes are used in the following applications:
Individual components in immersion tanks using baskets or suspension equipment
Pipes and long drilled holes by pumping the solution through the components
Small parts, mostly loose as bulk goods in drums, provided they cannot damage each other
Wires and strips by continuous processing on reel to reel equipment or in a loose bundle
Large containers by means of spraying or sprinkling
POLIGRAT offers a range of modern high-performance processes for chemical polishing and de-burring:
CARBOCHEM for the processing of carbon steels
TICHEM for the processing of titanium and titanium alloys
CUPROCHEM for the processing of copper and copper alloys
ALUCHEM for the processing of aluminium and aluminium alloys
ZIRCHEM for the processing of zirconium and zirconium alloys
In addition to chemicals for chemical de-burring and polishing, POLIGRAT provides specialist equipment for processing, including environmental technology, which is specially adapted to customers parts and requirements. POLIGRAT also offers processing services it its own sub-contract firms.
---
CONVINCE YOURSELF!
With our experience and our procedures, we discover new potentials for you, to create more value. That's why we work in partnership with you and are already developing answers to your questions of tomorrow. We look forward to showing you the opportunities and potential for your company – challenge us!
Poligrat:
The POLIGRAT Group is the international market and technology leader in its core competence. That's why we are represented in all relevant markets.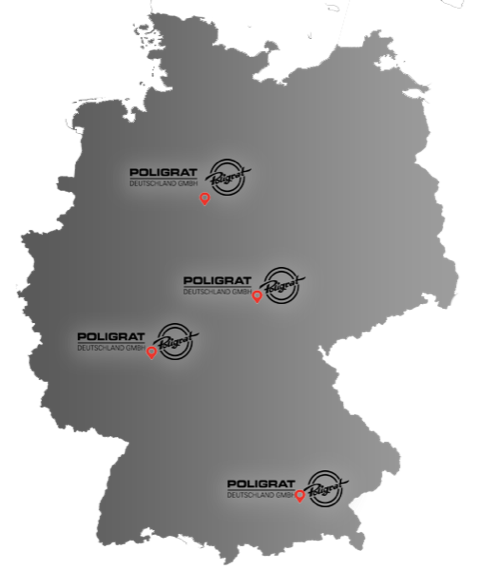 YOU CAN FIND ONE OF OUR PLANTS NEAR YOU:
---
Brochure "Chemical Polishing"
---