Dewatering Fluid
Temporay Corrosion Protection
You need help? Of course!
You have further questions concerning our chemicals and how to use them?
Please do not hesitate to contact us. You can contact the responsible person of the division Poligrat Chemistry by the following telephone number:
Dewatering Fluid dries water off metal surfaces and provides a temporary corrosion protection for the period of storage or further processing.
Dewatering Fluid is a neutral liquid based on crude oil derivatives. It is economical and unproblematic in it's application.
Dewatering Fluid displaces the water from the metal surface and causes it to roll off in droplets with little surface contact. Specific additives leave a thin protective coating after drying that temporarily prevents corrosion. This anti-corrosion coating does not affect installation, welding and soldering and does not have to be removed prior to finishing.
Dewatering Fluid is liquid and applied undiluted at room temperature. The treatment time is 2-3 minutes. The application is by immersion, spraying or with a brush. In immersion tanks the water collects at the bottom and is drained off. The laws and regulations for the storage and handling of flammable materials have to be adhered to.
Waste removal has to be done by approved contractors.
Specific weight/density: 0,88 kg/l
Ph-value:neutral
Flashpoint: 28 °C
State at room temperature:liquid
Application: undiluted/neat
Working temperature: 15° to 25 °C
Time to act on surface: 2-5 minutes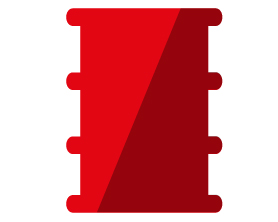 Steel barrel 44 kg (50 l)
---
POLIGRAT-PRODUCT INFORMATION Dewatering Fluid